自2019年9月29日起,未验证邮箱的用户将无法编辑页面。请前往参数设置验证邮箱,谢谢您的配合(若您使用中国大陆邮箱,可能存在较高延迟,请耐心等待;若24小时内未收到,请检查您的垃圾箱或重新申请一次)。
Home
| | |
| --- | --- |
| Other languages: | English · 简体中文 |
Featured custom level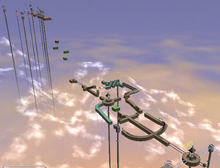 The 2010s is a custom map made by BallanceBug and 飘逸冷星, which was released near the end of the decade of 2010s. It brings back the mapping styles of each year in the 2010s and was considered to be like a history of mapping.
The 2010s can be divided into a "time machine" at the beginning and 7 sectors of content, which all represent the highest-level mapping styles in different years by referring to at least 2 outstanding custom levels that year. In the 2019 section, the custom map even gave introduce to some scripts discovered that year and became the first custom map to have custom floor types.
Meanwhile, because of the technological limits, some parts of the map did not have perfect results, and some minor mapping arts were not reflected in the map to give compromise between content and map layout. But, that did not prevent it from being regarded as a remarkable custom map nonetheless.
After its release, The 2010s quickly gained wide acclaim from its players, and a number of videos of it have been made.
Did you know ...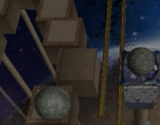 The Ballance custom map, exported by Virtools 5, can not be loaded by Ballance.
All of the NMO files located in the folder called 3D Entities are CMO files.
You can increase the ball's speed in game via setting the refresh rate of Ballance
2 abandoned stone transformers are located above the Level 13's last checkpoint.
If you push a prop ball on monorails, both you and the prop ball will fall from monorails.
The shreds of ball have effect on elements.
A horizontal fan will give paper ball a constant force whose direction is up.
A prop stone ball doesn't break wood bridge. Fan couldn't lift a prop paper ball up.
If you set a horizontal 34 element, the stone block of 34 element will slide on a surface without any friction. You will trigger 34 element's bug and make your ball fly into the sky when you use stone or wood ball to cross a horizontal 34 element. The farther initial position, the more unstable status of 34 element.
You can unlock all levels via inputting gravity in CREDIT page.(Temporary unlock)
Speedrun field

四中2014届1班 is a Ballance hard core player in China. He has broken so many Chinese speedrun records and has a good reputation in Chinese speedrun field.
变形的木球 is a shining star in Chinese Ballance speedrun territory. He was respected by almost Chinese Ballance players.
Leemyy is a German professional Ballance speedrunner. He also is speedrun.com's Ballance page's moderator. He maintains the fastest record of RTA-12 at the present.
TheWinslinator is a American Ballance speedrunner. He is extraordinary in RTA. The technology he showed in RTA-13 is also shocking.
Popular downloads
Only the content that can be downloaded will be listed here, and no links will be attached. If you need to download, please go to this website and all the resources listed here can be downloaded there.
There are only some important resources existed, such as Ballance install app. More resources are coming soon.
Ballance Install App (Only for the people who lost CD or want to try Ballance): Install Ballance directly.
Ballance Mapping Tools Package: The best tools package for Ballance mappers.
Ballance Tools Box (Multi-language): The best way to configure the settings related to Ballance.
Ballance Map Pack: a pack of high-quality custom levels.